There are so many tips and tricks out there that it's impossible to know them all. I feel as if I am in a constant state of learning when it comes to cooking. There always seems to be new and innovative ways to do things and most of them seem so simple that it often makes me wonder why in the world I hadn't thought of it before.
So we have gathered 5 tricks that anyone can use in the kitchen and compiled them here for you. So let's take a look at some innovative ways to make our way around the kitchen.
1. PEEL GINGER WITH A SPOON
Ginger can be tricky to peel with all its bumps and irregularities. Rather than using a paring knife or vegetable peeler, reach for the spoon.Scrape it against the skin and it'll come right off, following every contour and minimizing waste.
2. THINK LIKE A FACTORY LINE, AND WORK CLEAN
When someone starts out cooking, the most common inefficiency you will see is in task planning. For example, the recipe calls for four onions peeled, finely diced, and transferred to a large bowl. Doing each of these steps one at a time is a lot of time moving back and forth between the board, the trash bin, and the bowl. Not to mention picking up and putting down your knife etc.
Instead of running around in circles thing of prep like working in a factory: start by cutting off the end and splitting all of the onions. Next peel, then make all of your horizontal cuts so on and so forth until the entire task is completed. By doing this you'll find that the time you spend in the kitchen will not only be more efficient, but also neater, cleaner, and more organized.

3. FREEZE LIQUIDS IN USEABLE PORTIONS & FREEZE AS FLAT AS POSSIBLE!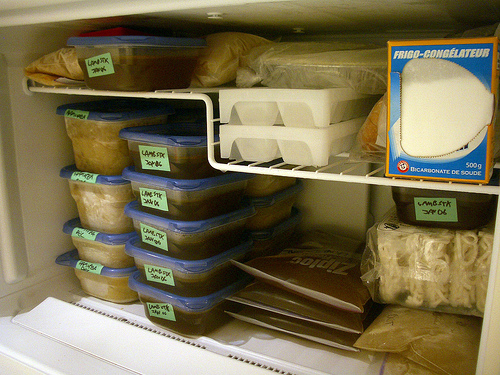 When freezing raw meat, soups, and stews, if you have a vacuum sealer, use it! Otherwise, place foods in heavy-duty freezer bags, squeeze out all the air, lay the bag flat, and use your hands to work the contents into as flat and even a shape as possible.
When freezing vegetables, cut them into pieces 1-inch or less and blanch any green vegetables. Place them on a large plate or sheet tray spaced apart from each other and freeze them solid before transferring to a plastic freezer bag and storing flat.
Continue to the Next Page …